At Daghlian Pediatric Dentistry & Sokolowski Orthodontics, we believe in giving the best of care for your child's first visit. When your child meets with our dentist or orthodontist, we will make sure his or her experience is positive and enjoyable.

Pediatric
Dr. Rita Daghlian is passionate about providing the highest level of care for her young patients. We try to make your child's first experience with the dentist to be positive. Our team makes sure all of the children are excited to be in the office and help kids to feel completely comfortable with their dental care. Having a positive association with the dentist starts at a young age, so we will always put your child's needs first.
Before coming to the office, we recommend that you refrain from creating any negative associations or unnecessary fears for your child. Avoid using words that may cause stress, such as "needle," "shot," "pull," "drill" or "hurt." We make it a practice to avoid such language in our office as well.
Our team invites you to stay with your child during the initial examination. Show your child by example, that the dentist's office is a fun and pleasant place to be. In the future, you can choose whether or not you want to join your child in the treatment room.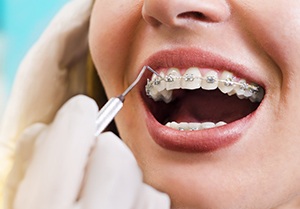 Orthodontics
Dr. Paul Sokolowski is our in-house orthodontist. When you and your child come to our office for the initial consultation, our orthodontist will perform a thorough examination of the teeth, discussing potential treatment options. The consultation is very important, as it allows us to better assess your orthodontic needs. Typically, this appointment lasts for 30 minutes.
Depending on your schedule, we may also gather diagnostic records, including taking X-rays, photos and impressions. The appointment will last around one hour. If your schedule doesn't permit both appointments at once, we can split these consultations up.
During your consultation, our orthodontist will ask you questions about your smile and what you hope to gain from treatment. We invite you to ask us questions at this time too. It is our goal that you leave the appointment feeling more confident about your upcoming orthodontic care.
What to Do Before the First Visit
Before coming to our office, we recommend checking out the other pages on our site. We have meticulously added informational pages all about the services we offer and other patient resources. If you have any questions, feel free to stop by our dental office in Huntington Beach, California, or give us a call at 714-848-0234.