If your child has a damaged smile, our dentist can restore the smile, providing your child with a look they will feel great in. By utilizing a pediatric smile makeover, Dr. Rita Daghlian can help your child have a healthier smile that looks just like their natural teeth.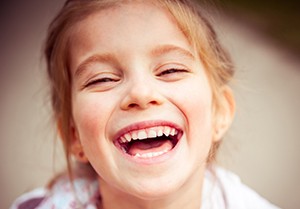 Does My Child Need a Smile Makeover?
If only one treatment won't give you the results you need, Dr. Daghlian may recommend that your child receive a smile makeover. When we combine these cosmetic and restorative treatments, we can help your child to smile with confidence again. A smile makeover can help if your child has one of the following problems:
Missing teeth
Broken teeth
Chipped teeth
Worn teeth
Decayed teeth
Damaged teeth
Misshapen teeth
How Does it Work?
Depending on your child's unique needs, Dr. Daghlian may recommend various treatment options at Daghlian Pediatric Dentistry & Sokolowski Orthodontics. Your child's smile makeover may include:
Dental bonding
Teeth whitening
Orthodontics
Dental fillings
Dental crowns
If you are interested in helping your child achieve a healthier, more aesthetically pleasing smile, schedule a consultation for a pediatric smile makeover in Huntington Beach, California, by calling our office at 714-848-0234.