It is broadly known and understood that tobacco usage is detrimental to your health, yet still to this day, many Americans consume tobacco on a daily basis. According to the CDC, tobacco use is the most preventable cause of death and disease in the United States.
At Daghlian Pediatric Dentistry & Sokolowski Orthodontics, we aim to educate our patients and their parents about how to improve their oral health and overall health. With proper education on various topics, we can make a difference in our homes and communities to live healthier lives.
In any of its forms, tobacco can jeopardize your child's health, causing permanent damage to their overall health and their teeth.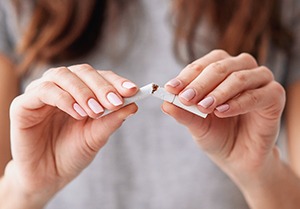 What Are the Risks of Tobacco Use?
Tobacco use leads to a wide variety of dental problems, including many that are life-threatening and negatively impact your quality of life. Some health concerns associated with tobacco use include:
Oral cancer
Heightened risk of periodontal (gum) disease
Decreased ability to smell or taste
Compromised ability to heal after oral surgery
Stained and discolored teeth
Lung cancer
What Can You Do as a Parent?
The most important thing you can do as a parent is to talk to your children about the dangers of consuming tobacco. Emphasize the importance that tobacco – in any of its forms, is dangerous and addictive.
Some things you can do to help your child avoid tobacco include:
Speak with your child about the dangers of using tobacco
Monitor your child
Ask our dentist to speak with your child about tobacco and oral health
Set a good example to your child by avoiding tobacco products yourself
Some Facts to Consider
The CDC reports that nearly 9 out of 10 smokers tried their first cigarette by the age of 18. Additionally, each day in the U.S., roughly 2,000 kids under the age of 18 try smoking for the first time. Even if you don't think your child is at risk for trying tobacco, it is important to be diligent in speaking to them about the health concerns associated with the habit. Your discussion could make all the difference in your child's life.
Our dentist and team would be more than happy to speak with you or your child about this important topic. Dr. Rita Daghlian and Dr. Paul Sokolowski can answer any of your questions or concerns about helping your child with avoiding tobacco usage in Huntington Beach, California. Feel free to reach out to our office at 714-848-0234 if you have any questions or concerns.